Introduction
Up to five days of independent canoeing in western part of Czechia. Ohře river offers an unforgettable experience for all canoe enthusiasts
Self guided canoeing adventure on the Ohře river (German: Eger) in western part of Czechia including complete canoe equipment and route / lodging navigation.. You can choose between a super short break of two days / one night or challenge yourselve a bit more and spend up to six days / five nights while exploring the beauties of the Ohře valley. The river meanders through a mixture of open countrysides and dense forests. Along the "water road" there are a lot of cultural and historical sights to enjoy including world-famous spa Karlovy Vary
The multi-day tours start in Tršnice, Loket nad Ohří or Karlovy Vary and go to Radošov, Perštejn or Klášterec nad Ohří. The most popular choices are briefly described below. If you prefer a short canoe trip, look here for the day trips.
Two days trip

Karlovy Vary - Perštejn (37 km - 2 days)
Karlovy Vary - Klášterec nad Ohří (43.9 km - 2 to 3 days)
Loket nad Ohří - Radošov (31.3 km - 2 days)
Three days trip

Tršnice - Karlovy Vary (58.5 km - 3 to 4 days)
Loket nad Ohří - Perštejn (51 km - 3 to 4 days) * most popular choice, detailed itinerary below *
Loket nad Ohří - Klášterec nad Ohří (57.9 km - 3 to 4 days)
*Below is a detailed program of the three days self-guided tour starting in Loket nad Ohří and ending in Perštejn: 3 days / 2 nights / 51,6 km canoeing.

Four days trip

Tršnice - Radošov (75 km - 4 to 5 days)
Loket nad Ohří - Klášterec nad Ohří (57.9 km - 4 days)
Five days trip

Tršnice - Perštejn (95.3 km - 4 to 5 days)
Tršnice - Klášterec nad Ohří (102.2 km - 5 days)
The maximum route that we recommend is from Tršnice to Perštejn (total 95.3 km). We are happy to make a tailor-made proposal for you. We can also arrange overnight stays in good hotels and guesthouses along the route.
Map of tour
Tour itinerary
Day 1: First stage from Loket to Karlovy Vary
The first stage starts in Loket, a picturesque town with a medieval structure. High above the river is a stately castle. After you have collected the canoes from the landlord, you will start at Vodácké tábořiště Loket (190.60 r.km) *. In the morning you will first cruise through a beautiful rocky area Svatošské skály, then paddle to Karlovy Vary, the spa town of eternal fame and beautiful architecture – well worth a walk.
Mooring at the "Pod Mostem" campsite, Karlovy Vary (r. Km 175.80).
Distance: 15 km
Overnight: Camping Pod Mostem, Karlovy Vary
Day 2: challenging rapids Hubertus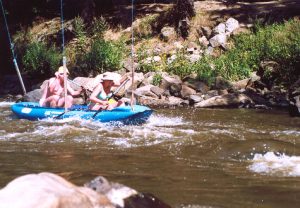 Today you make a shorter canoe stage with an extra challenge – you sail through the rapids Hubertus (which is used for kayak training, among others) Then you sail through wooded valleys, on the banks you see striking rock formations. A nice break can be a walk to the "Rocks of Fairies" (Skalky skřítků).
Mooring at one of the campsites in Radošov (r.km 158, including camping Na Špici)
Distance: 17 km
Overnight: one of the campsites in Radošov (including camping Na Špici, but there are also other campsites options).
Day 3: Easy paddling from Radošov to Perštejn
On the last day you will encounter many gentle rapids and the paddling is automatic. You moor in the town of Perštejn, drop off canoes at guesthouse Betty (r.km 139) and possibly camp there.
Distance: 19 km
Overnight: none
* The rivers in Czechia are mapped using so-called "mileage". The river ends at mileage 0 and so you count upstream towards the source of the river. The kilometers are indicated on the map as r.km. Say for the sake of convenience: river kilometers.
What's included and excluded?
Rental of the canoe and associated materials (paddles, waterproof tons / bag)
Children younger than 15 years old will be supplied with life vest (obligatory)
Digital information package
Insurance against damage of rental equipment is included in the rental price (insurance does not apply to theft, loss and damage involving intent such as an open fire, for example)
Transport of the equipment back to the starting point (the rented material must be returned at the endpoints indicated by us)
River map with all necessary details on weirs, rapids and campsites
Emergency hotline
Overnight stays: there are several simple campsites ("tábořiště") located directly on the river. These campsites usually have simple sanitary facilities and a restaurant / cafeteria. There is also the possibility to rent a hiking tent with a sleeping mat from us.
Additional materials such as water shoes, neoprene suit, pump
There is the possibility to book luggage transport
Car parking fee
Video
Show tour video
Accommodations
Show accommodations
General travel information
Show general travel information
Please note: travel information is stil in preparation
The Region of Karlovy Vary lies in the westernmost part of the Czech Republic at the border with Germany. When it comes to size, it belongs among the smallest of all Czech regions, but when it comes to historical monuments, exceptional experiences and natural wealth, it ranks among the most beautiful and the most tourist attractive regions.
History
From of old, the historical development of the region has always been influenced by its position on the border of Slavic and Germanic territory, as well as by its geography and its possibilities for exploiting local raw materials and resources.
In the Middle Ages, small settlements began to appear in Krušné hory (Ore Mountains) and silver, later other ores were mined in their vicinity. At the end of the 19th century, mining operations in the surroundings of the town of Jáchymov were literally put on the map thanks to the discovery of the radioactive element of radium in the uraninite from the local mines by Marie Curie-Sklodowska. Likewise, rich deposits of kaolin triggered the foundation of prominent porcelain factories. Other premium local produce that has gained world repute includes glass made by the Moser Glassworks or the Becherovka herbal liqueur from Karlovy Vary. For more than 650 years, the region has been inherently tied to spa treatment, which utilises local natural resources, such as thermal and cold mineral springs, mud, peat, and gas.
Spa & Wellness
The renown of the Region of Karlovy Vary has always been closely bound up with balneology. Not only the best known Czech spa of Karlovy Vary is located on its territory, but also other significant spa towns, i.e. Mariánské Lázně, Františkovy Lázně, Lázně Kynžvart and Jáchymov. The spa resorts and hotels offer its guests a wide variety of wellness stays and spa programmes that are based on the tradition of exploiting natural healing resources. Their favourable effects have been verified by centuries of experience, as well as by modern scientific methods.
Historical Monuments
You may find a vast number of notable architectural sites and monuments on the territory of the Region of Karlovy Vary. The most significant include Bečov Castle and Chateau with the unique Reliquary of Saint Maurus, the spa colonnades in Karlovy Vary, Mariánské Lázně and Františkovy Lázně, Loket Castle, the Premonstratensian Monastery in Teplá, Cheb Castle – the only imperial palatine in the country, and many more.
Natural Wealth
The beautiful nature of Krušné hory (Ore Mountains) and the Slavkovský les Protected Landscape Area will treat you to an unforgettable views from the many lookout and observation towers. Dozens of nature trails will allow you to explore the plentiful nature reserves and protected landscape areas. The most popular natural points of interest undoubtedly are the Soos National Nature Reserve and the Boží Dar Peat Bogs National Nature Reserve.
Active Holiday
Numerous tourist resorts in Krušné hory (Ore Mountains) and many sports areas and complexes throughout the region allow you to spend your holiday actively in any part of the year. The most popular winter resorts are Boží Dar and nearby Klínovec as they offer a great variety of downhill courses, cross-country skiing trails and snowparks. In addition, hundreds of kilometres of tourist paths and cycle paths are available to hikers and bikers in the remaining seasons of the year. Golfers will undoubtedly enjoy 10 golf courses and several indoor golf centres. Those keen on tennis, water tourism or climbing will also have a great time. Popular adrenalin activities include paintball, rope centres, motorcycle rides etc. Manifold outdoor natural swimming areas, swimming pools and aqua parks invite you for a swim in the summer or all year round.
The Karlovy Vary International Film Festival and Other Major Events
The highlight event in the Region of Karlovy Vary is the Karlovy Vary International Film Festival, which is annually visited by thousands of film enthusiasts from all over the world. Other popular events include the Wallenstein Festival in Cheb, Jazzfest, the Folklore Festival, etc.
Source: the-region-of-karlovy-vary
Photo gallery
Reviews
"
Praag, geweldige stad, Olympik Tristar, basic, voldoende, ligging tov stad prima, maar inderdaad 'triest en grijs'. Mountainbike tour, geweldig leuk!
"
"
Sarah was onze vlaamse gids die ons op de fiets Praag liet zien! Het was geweldig! Goede kwaliteit biking! Geweldig leuke en veilige route! Sarah kon met een passie over Praag vertellen, alsof ze er al jaren woont, wat niet het geval bleek te zijn! Ook op vragen van onze kant wist ze continu antwoorden te geven! Haar enthousiastme was heel leuk, we hebben dus genoten van deze trip! Als wij nog een keer naar tsjechie gaan, zal dat zeker met deze organisatie zijn want ook de info vooraf was erg uitgebreid.
"
"
Praag, geweldige stad, Olympik Tristar, basic, voldoende, ligging tov stad prima, maar inderdaad 'triest en grijs'. Mountainbike tour, geweldig leuk!
"
Please submit your review
Please submit your review