Self guided 3 days hiking in fairytale landscapes with pine forests, deep gorges and rock formations in northern part of Czechia
Self guided three days hiking tour in beautiful Bohemian-Saxon Switzerland nature park on the border between Germany and Czechia. The region has National Park status on both the German and the Czech side of the border. The area is characterized by fairytale landscapes: pine forests, rock formations and idyllic views alternate. Bohemian Switzerland is an ideal destination for an active holiday. The tour of 24-37 km in total takes you past the most important sights of Bohemian Switzerland, accommodation is arranged in attractive places of the park, comfortable pensions and/or hotels of 3 star standard. Anyone can make this trip with a little fitness.
Expand all tour details
Collapse all tour details
Tour itinerary
Day 1: arrival in Děčín
Today you arrive in Děčín, the base for this tour. The walking program starts tomorrow, so you have plenty of time to explore this historical twon. Děčín Castle with its beautiful rose garden, for example, is worth a visit. Another suggestion is the spectacular via ferrata in Děčín with a magnificent panorama of the city on the Elbe as a reward.
Overnight: Hotel Faust, Pension U Pekaře
Day 2: Děčín – Hřensko – Mezná
The day starts with a boat trip on the Elbe. The boat sails all the way to Dresden, but you get off in Hřensko. This village is the gateway to Bohemian Switzerland, of which today you will immediately encounter its most famous symbol: Pravčická brána, the largest natural gate in Europe.
Note: the boat does not sail at extreme water levels. The timetable will be announced one day in advance, we will provide information about this. An alternative to the boat is the train, a very nice train ride to Schöna where you still have to cross the Elbe with a pound from the left bank to the right bank.
From Pravčická brána you descend to the Kamenice gorge and go for a boat trip on a punt boat. You can also omit this part if you prefer to walk. There are two alternatives – via Pravčická brána 10.5km to Mezní louka / 12.5km to Mezná or through the gorge with a boat trip 7km
Distance: 7-12,5 km
Climbing: 369-390 m
Descent: 222-225 m
Overnight: Pension Na vyhlídce, Hotel Hubert or Hotel Mezní louka, Pension U Fořta (upgrade)
Day 3: Mezná – Rynartice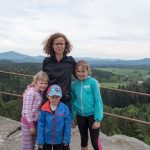 Via the Nová cesta (New pathway), a yellow marked path you walk to the ruins of rock fortress Šaunštejn. Not much is left of it now, but in the fourteenth and fifteenth centuries the castle was a base for robbers and bandits. Continue to Jetřichovice, where you can take a longer detour to Ostroh hill (484 m) and the Mariina Skála viewpoint. It is a bit of a climb, but once at the top you will be rewarded with another fantastic view over Bohemian Switzerland.
Distance: 8-13,5 km
Climbing: 200-592 m
Descent: 250-634 m
Overnight: Hotel Bellevue, Pension U vyhlídky, Hotel Zámeček (upgrade)
Day 4: Rynartice – Česká Kamenice, train to Děčín
For those who still have enough energy, a trip to the Seven Dwarfs of Rynartice is recommended. From here you walk to Česká Kamenice, but you can of course also choose to walk directly to this town to take the train or bus to Děčín. You can extend the tour with, for example, an extra night after the tour in Děčín or a city trip to Prague.
Distance: 8,5-11,5 km
Climbing: 309-325 m
Descent: 212-231 m
Overnight: none
What's included and excluded?
2 overnight stays in mountain huts
3 overnights in hotels or pensions (every day different accommodation), in private 3-5 bedded rooms with own bathroom including breakfast
2x dinner (day 2, day 3)
Map with detailed routes (topographical 1:40.000) and separate detailed route description
Information package
Emergency hotline
Luggage storage (only if extra night is booked preceding the tour)
ATOL comparable security by SGR (Dutch)
Costs for the boat trip from Děčín to Hřensko - the starting point of the trip
Costs for the punt boat trip through the gorge between Hřensko and Mezna (optional)
Train ticket from Česká Kamenice to Děčín on day 4
luggage transport (It is possible but not really necessary. You walk with a light pack for three days past the two accommodations in the National Park where, accommodations dispose with all necessary amenities)
Lunches ( various possibilities of refreshment during the hike )
Accommodations
Hotel Kovarna
Our hotel is located on the outskirts of town in a quiet area Decin district Nebočady about 5.5 km to Decin Center, 17 km to Germany and 17.5 km in Usti nad Labem. Excellent location guaranteeing many side activities .
Star rating:
Website: website
Address : Vítězství 32, Nebočady, 405 02 Děčín, Tsjechië
Elevation :
Hotel Česká koruna
Hotel Česká Koruna – Accomodation in the historic heart of Děčín. Our services contain accomodation in comfortable rooms, free Wifi internet connection. Our personnel is ready to help 24 hours a day and provide you maximal confort during your stay. We are the only one hotel in Děčín certified by The Czech Association of Hotels and Restaurants (AHR ČR).
Whether you are going to discover the beauties of Czech-Saxon Switzerland or looking for accomodation in Děčín on a business trip, Hotel Česká Koruna is the right choice for you.
Star rating:
Website: website
Address :
Elevation :
General travel information
Difficulty Grade: Easy to Moderate ( )
Relaxed and mild walks suitable for walkers with average levels of fitness and who are generally in good health. These walks are typically on maintained trails or timber roads and have marked trails with signage. Gradients are mild with no steep uphill or downhill section. No previous hiking experience is required and they are suitable for novices and different age groups. Walking is typically limited to 3-5 hours per day (up to 12 km of walking).(read more about explanation of our difficulty grades).
Route Navigation in the field
You will walk mostly on rocky roads and even some paved roads. All trails are well-marked in the field. We advise  to follow only the marked trails and never try to shorten the path through the unknown and unmarked terrain. Off trail walking is strongly forbidden. We will provide you with detailed navigation instructions and maps (1:40.000 or 1:25.000).  You can call us 24/7 for assistance (however preferably during working hours only).
More detailed info on route navigation will be included in your booking documents.
Best time to go
This trip as available from April until October. April you still will find some remnants of snow on the ridges. The weather for walking is optimal in June – September. However July and August can sometimes be quite warm and weekends can be busy at some hot spots.
The busiest months are July and August. If you want to travel in that specific term, it is preferable that you book as early as possible. The flexibility of self-guided holidays means that there are no fixed dates and you can start your holiday on any date in the season, therefore please indicate desired starting date when booking.
Weather
The climate is typical for Central Europe. Humid summers with occasional hot spells, and cold, cloudy and humid winters. If you are planning a trip to the Czech Republic, weather will probably be one of your concerns. Czech Republic's climate is comparable to that of southern inland Canada. Summer in the Czech Republic typically covers the period from June through mid-September. Czech summers are usually mild (20-27°C/70-80°F) and somewhat humid, with the highest temperatures up to 30-35°C/85-95°F (occasionally higher) for short periods. Such heat waves can be expected in July and August. Sudden showers and thunderstorms are common, so bring an umbrella or be prepared to dash for cover.
Recommended weather information: yr.no
What to bring
We recommend that you travel as light as possible because airlines nowadays charge larges fees for luggage above 15kg. Ideally, you should bring one piece of luggage weighing not more than 25 kg (to be checked in) and a daily pack (15 – 20 l backpack) for your daily essentials (snacks, drinking water, camera, etc). Below is a indicative list of what you should bring with you on this trip. More detailed information will be included in your booking information documents. If you need further advice, please contact us or ask at you local outdoor retailer.
Good hiking boots (we have seen hikers on sneakers though)
Hiking socks (at least 2 pairs or 3 pairs on the longer trips)
Several t-shirts (cotton or preferably breathable/fast drying)
Waterproof and windproof jacket with hood
Synthetic mid layer or warm fleece
Shoes/slippers – to relax and wear inside accommodation (shower / toilet)
Sunglasses, sunscreen skin protector and lip salve
Hat/Baseball cap
First Aid kit (aspirine, diaria profilact)
A good book 🙂
Reviews
overnachtingsplaatsen waren toppie!
★★★★☆
"
had niet verwacht dat het op alle overnachtings plaatsen zo goed zou bevallen was ok! wandelroute zelf heb er van genoten mooie natuur. als paar min puntjes staan op plaatsen de route niet duidelijk omschreven ivm de vele naamborden is opletten dus? en als je van polen plaatsje wang weer het nationaal park in loopt moet je betalen wisten we niet? hadden geen sloty meer.Was de moeite waard om er aan te beginnen grtj piet houben
"
"
We hebben een mooie vakantie gehad in Tjechie. De natuur in Tsjechie is mooi en we zijn erg tevreden met de organisatie van onze wandelreis. Fijn dat onze koffers iedere dag netjes naar het volgende hotel gebracht werden.
"
"
Heel tevreden van de reis! - Het landschap is erg mooi, uitstekende wandelpaden. Ik ben wel twee keer verloren gelopen, maar dat was niet zo erg. Accodomatie was prima in orde. Hoewel ouderwets, is het hotel in Horni Blatna me erg bevallen. Heel mooi stadje ook. Overal waren de mensen erg vriendelijk. Praktische informatie: Bozi Dar kan je vanuit Duitsland perfect bereiken als je de bus neemt tot "Oberwiesenthal - Neues Haus". Dan is het nog 400 m stappen. Ik heb jullie reisbureau intussen al aanbevolen bij mijn vrienden en familie.
"
Please submit your review
Please submit your review