6 days "Paradise" cycling through a mozaik of villages, valleys, meadows, medieval relicts, rock labirints and beautiful views
The landscape of the Bohemian Paradise is proudly featured on the UNESCO natural heritage list. You will bike through charming little villages, approach ancient castles and forest ponds surrounded by sandstone needles and sleep in comfortable local pensions.
Expand all tour details
Collapse all tour details
Tour itinerary
Day 1: On the Trail of count Wallenstein
Arrival and check-in at a hotel in the center of the town of Jičín – gateway to the Bohemian Paradise nature reserve. The town experienced its "golden age" in the first half of the 17th century during the reign of Albrecht z Valdštejna (Wallenstein, Czech count and general). He had great intentions in developing this area. He built his residence here on the square. His death brought an end to his grand plans.
Tip: the town of Jičín is nice to wander around for half a day and to do some shopping. There are also various facilities such as a museum, a watchtower, a swimming paradise, various restaurants and terraces.
Overnight: Hotel Rieger, Hotel reStart (upgrade)
Day 2: Through the 'Stone City'
The first cycling tour immediately connects a number of tourist highlights of the Bohemian Paradise. From Jičín you cycle to the "stone" town of Prachov with sandstone rocks on the surface of 190 hectares. It is more than worth it to park your bike for a few hours and to take a walk through the Prachov rocks . The entrance is about five Euros, the walking routes vary from about 2 km to 5 km, for the short route you have to take at least 1.5 hours. Also close to the route are a number of small lakes (Oborský rybník) surrounded by forests and rocks, it is a favorite area for campers. You can take a swimming break when the weather is nice. There are plenty of drinks and fast food available at very friendly prices.
From the route you will see the basalt hill Vysker (464 m) and eventually you will reach the friendly town of Turnov, the heart of the Bohemian Paradise. This city was founded in the year 1250 and is beautifully situated on the river Jizera. In the vicinity of Turnov there are numerous sites of semi-precious stones, through which traditional handicrafts (stone cutting, jewelry making) developed.
Distance: 35 km
Climbing: 485 m
Descent: 497 m
Overnight: Hotel Korunní princ, Hotel Karel IV.
Day 3: On To the Medieval Castle or the Jizera Greenway
A tough yet beautiful bike ride leads past the museum farm Dlaskův statek with an exhibition of rural life. From here you have to climb a lot to the castle ruins Frýdštejn, but that makes sense: the castle was of course in a difficult to reach place. A few kilometers further up you can climb the Kopanina lookout tower, then you can descend to the valley of the river Jizera to Malá Skála, a picturesque village surrounded by rocks. From your accommodation you have a beautiful view to the church Pantheon on the rock cliff.
The alternative route follows the Jizera Greenway from Turnov: a light pleasant route along the Jizera River on newly constructed asphalt cycle routes.
Distance: 19 km (alt. 11 km)
Climbing: 470 m
Descent: 475 m
Overnight: Hotel Skala, pension NECO
Day 4: Rest Day or Mala Skála circuit
Today you can take a rest day or the longest stage of this week awaits you. You first cycle through the river valley of the Jizera (Jizera Greenway no. 17) through all kinds of villages and towns. A well-known town on the route is Železný Brod, known as the center of the glass industry. Only at the point where the rivers Jizera and Kamenice converge you leave the valley and cycle into the hills. You go up and down alternately.
If you want to reach the highest mountain in the Bohemian Paradise Kozákov (744 m), you have to pedal hard. Note: this part of the route is relatively steep, keep this in mind. But the beautiful view tens of kilometers away is definitely worth it! Kozákov is also a site of precious stones. You will descend again to Malá Skála, on the way you will pass the rock complex Chléviště.
Distance: 43 km
Climbing: 918 m
Descent: 918 m
Overnight: Hotel Skala, pension NECO
Day 5: 'Old Witch' and 'Fair Virgin' Dominant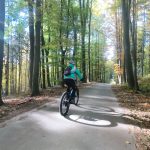 First you cycle in the direction of the city of Turnov and a few kilometers further on you visit the castle ruins Valdštejn, which stands on a rocky cliff. You can only see remains of the castle, but the sandstone church and bridge have been beautifully preserved. The next sight on the route is Hrubá Skála Castle, nowadays a hotel and restaurant. From the tower of the castle you can already see the next castle ruin: Trosky. From the castle with one thick (the Old Witch) and one thin tower (the Fair Virgin), the rulers had control over the entire area in the past. Today they are the symbol of the area. You reach Prachovské skály rock labyrinth at the end of the day.
Distance: 36 km
Climbing: 599 m
Descent: 453 m
Overnight: Parkhotel Skalní Město, Sporthotel Brada
Day 6: Over the Hill
Today you leave the forests and rock complexes and largely cycle through open countryside. In the village of Rovensko pod Troskami you can view the so-called rebel bells, the bells hang upside down. Today's topper is the Tábor hill with a chapel above it. From this point you can see the wide surroundings. Just before the town of Jičín you will pass a large monastery complex, built by Count Albrecht z Valdštejna (Albrecht von Wallenstein). From here you walk through a double linden avenue that will lead you to the center of the city. The avenue was also planted by Count Wallenstein, after all the road to his seat had to be stately.
Distance: 41 km
Climbing: 577 m
Descent: 710 m
Overnight: Hotel Rieger, Hotel reStart (upgrade)
Day 7: Departure
Return home after breakfast or extend with… a stay in Prague?
Tip: the route can be made lighter or heavier, part of the route you can go by the train. The number of kilometers to be cycled can easily be increased or decreased by making adjustments to the route.
What's included and excluded?
6 overnights with breakfast in comfortable hotels/pensions in private multi-bedded rooms / family rooms with own facilities
Map with detailed routes (topographical 1:40.000) and separate detailed route description
Luggage storage costs throughout the tour at the first overnight address in Jičín
Information package
Emergency hotline
ATOL comparable security by SGR (Dutch)
Possible parking costs in Jičín
Entrance fee to Prachovské skály rock labyrinth, castles and other monuments on the way
Luggage transport costs (possible to book)
Lunches and dinners
Accommodations
Hotel reStart
4 star hotel reStart is located in Jičín town. It offers a restaurant, fitness center, wellness, bar, free Wi-Fi, family rooms, a children's playground, room service, a kids' club and bike rental.
All rooms come with air conditioning, a flat-screen TV with satellite channels, an electric kettle, a shower, a hairdryer and a desk.
Star rating:
Website: website
Address : Valdické Předměstí, 506 01 Jičín, Czechia – Jičín
Elevation : 289 m
Hotel & Zámek Svijany
It is possible to relax in the chateau garden, which is a retreat from reality for all. The chateau has a permanent exhibition of the archaeology and history of the chateau and its surroundings, the history of beer brewing and the spa industry, the underground and much more.
Star rating:
Website: website
Address : Svijany č.p. 30
Svijany
463 46, Czechia – Svijany
Elevation : 387 m
General travel information
Difficulty Grade
We scale the difficulty grade of this tour to be Moderate ( ). Appropriate for regular cyclists. Requires reasonable level of fitness. The trip covers an average of 45 km (5-7 hours) of biking per day, with a possibility of extended walks (read more about explanation of our difficulty grades). Minimum ages depends ofcourse per kid but we recommend from 12 years.
Route Navigation in the field
You will bike mostly on asfalt/paved roads and even some real cycling paths. All trails are well-marked in the field. We advise  to follow only the marked trails and never try to shorten the path through the unknown and unmarked terrain. Off trail biking is strongly forbidden. We will provide you with detailed navigation instructions and maps (1:40.000 or 1:25.000).  You can call us 24/7 for assistance (however preferably during working hours only).
More detailed info on route navigation will be included in your booking documents.
Best time to go
This trip as available from April until October. April can be still quite cold in the early mornings. The weather for biking is optimal in June – September. However July and August can sometimes be quite warm and weekends can be busy at some hot spots.
The busiest months are July and August. If you want to travel in that specific term, it is preferable that you book as early as possible. The flexibility of self-guided holidays means that there are no fixed dates and you can start your holiday on any date in the season, therefore please indicate desired starting date when booking.
Weather
The climate is typical for Central Europe. Humid summers with occasional hot spells, and cold, cloudy and humid winters. If you are planning a trip to the Czech Republic, weather will probably be one of your concerns. Czech Republic's climate is comparable to that of southern inland Canada. Summer in the Czech Republic typically covers the period from June through mid-September. Czech summers are usually mild (20-27°C/70-80°F) and somewhat humid, with the highest temperatures up to 30-35°C/85-95°F (occasionally higher) for short periods. Such heat waves can be expected in July and August. Sudden showers and thunderstorms are common, so bring an umbrella or be prepared to dash for cover.
Recommended weather information: yr.no
What to bring
We recommend that you travel as light as possible because airlines nowadays charge larges fees for luggage above 15kg. Ideally, you should bring one piece of luggage weighing not more than 25 kg (to be checked in) and a daily small (15 l backpack) for your daily essentials (snacks, drinking water, camera, etc). Below is a indicative list of what you should bring with you on this trip. More detailed information will be included in your booking information documents. If you need further advice, please contact us or ask at you local outdoor retailer.
Good shoes for biking
Several t-shirts (cotton or preferably breathable/fast drying)
Waterproof and windproof jacket with hood
Synthetic mid layer or warm fleece
Shoes/slippers – to relax and wear inside accommodation (shower / toilet)
Sunglasses, sunscreen skin protector and lip salve
Hat/Baseball cap
First Aid kit (aspirine, diaria profilact)
A good book 🙂
Reviews
overnachtingsplaatsen waren toppie!
★★★★☆
"
had niet verwacht dat het op alle overnachtings plaatsen zo goed zou bevallen was ok! wandelroute zelf heb er van genoten mooie natuur. als paar min puntjes staan op plaatsen de route niet duidelijk omschreven ivm de vele naamborden is opletten dus? en als je van polen plaatsje wang weer het nationaal park in loopt moet je betalen wisten we niet? hadden geen sloty meer.Was de moeite waard om er aan te beginnen grtj piet houben
"
"
We hebben een mooie vakantie gehad in Tjechie. De natuur in Tsjechie is mooi en we zijn erg tevreden met de organisatie van onze wandelreis. Fijn dat onze koffers iedere dag netjes naar het volgende hotel gebracht werden.
"
"
Heel tevreden van de reis! - Het landschap is erg mooi, uitstekende wandelpaden. Ik ben wel twee keer verloren gelopen, maar dat was niet zo erg. Accodomatie was prima in orde. Hoewel ouderwets, is het hotel in Horni Blatna me erg bevallen. Heel mooi stadje ook. Overal waren de mensen erg vriendelijk. Praktische informatie: Bozi Dar kan je vanuit Duitsland perfect bereiken als je de bus neemt tot "Oberwiesenthal - Neues Haus". Dan is het nog 400 m stappen. Ik heb jullie reisbureau intussen al aanbevolen bij mijn vrienden en familie.
"
Please submit your review
Please submit your review