Canoeing holidays on the river Ohře, tailored for families as well as for active nature lovers
A four-to six days guided canoeing on the Ohře (Eger) river in western part of Czechia with romantic overnights in campsites along the river, all equipment provided. The river meanders through open countryside and sometimes through densely forested nature reserves. There are regular cultural and historical attractions along the route (towns, castles and palaces) to admire. The Ohre even streams through the world-famous Karlovy Vary Spa, just to name one highlight of this tour!
Detailed program: 6 days / 5 nights (shorter option 4 days / 3 nights), 85 km canoeing. We organise 4-and 6-day canoe tours on the river Ohre. Below is the day-to-day program of the 6-day tour. Participants of the 4-days trip start on day 3.
Expand all tour details
Collapse all tour details
Tour itinerary
Day 1: Introduction and the first short stage
Participants meet in the morning at the campsite U Piráta in Kynšperk nad Ohří or the campsite U Mostu in Chocovice (updated information in travel documents). Introduction with the guide and the other participants. The first short stage to Šabina is an exercise technique for inexperienced paddlers, but others have to get used to the motion on the water too. In the small rapids, you learn how to control the canoe. Today you reach the campsite in Sokolov.
Distance: 16 km
Overnight stay: taboriste- (low-budget) campsite Sokolov
Day 2: challenging rapids
This day the canoeing trip goes through a deeply wooded valley. In this segment of the river you will find many challenging rapids on. You cross the city Sokolov, formerly a center of industry and mining, now a pleasant town with bright refurbished buildings. Once out of the town, the river is slower and there's time to take a break in the medieval town of Loket with it's beautiful castle.
Distance: 13 km
Overnight stay: taboriste- (low-budget) campsite near Loket
Day 3: Towards Karlovy Vary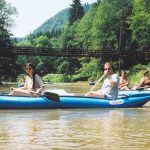 In the morning you'll head towards Karlovy Vary, the spa town of eternal fame. But first, you'll come along a beautiful rocky area called Svatošské skály. According to a legend, the rocks are a petrified wedding party.
In the afternoon there is of course the possibility to visit the town of Karlovy Vary (Carlsbad). It is the largest Czech spa town that's been there since the Middle Ages and is not only visited by famous guests. The spa houses and hotels radiate beauty and wealth.
Distance: 14 km
Overnight stay: taboriste- (low-budget) camping in Karlovy Vary
Day 4: Karlovy Vary free day
A free day for a tour of the festival city of Karlovy Vary. You can wander around the colonnade all day, taste the springs and listen to local artists. For more sporty people, we recommend renting scooters for a trip to Loket (castle tour) and back.
Distance: 0 km
Overnight stay: taboriste – (low-budget) camping in Karlovy Vary
Day 5: Rapid Hubertus and Cliffs of fairies
Today you'll start canoeing day with much excitement on the rapid Hubertus. This acceleration can be endlessly trained and exercised.
On the next route you will find a lot of light rapids. The river gets a little pace. A nice break may be a hike to the "Cliffs of fairies" (Skály skřítků). You walk through the town Kyselka, where the most famous Mattoni Mineral water is drawn from the ground. We end in campsite Radošov.
Distance: 17 km
Overnight stay: campsite in Radošov
Day 6: Last day of paddling
On the last day we just paddle through easy rapids to reach the end in the village Vojkovice.
Distance: 8 km
Overnight stay: none
What's included and excluded?
5 (3) nights camping on different campsites in your own tent (camp site fee and tourist tax is included)
5 (3) x breakfast (please bring your own cutlery, cup and plate)
Rental of the canoe and associated materials (paddles, waterproof tons / bag)
Children younger than 15 years old will be supplied with life vest (obligatory)
Full colour river guide with all necessary details on weirs, rapids and campsites
Info package
Transfers of the drivers or luggage at the end of every day (you will have your belongings on spot every day)
Tour guide/instructor
Other meals. During the tour there are a lot of possibilities to buy some nice dinner or to do some shopping in a local supermarket.
Car parking fee
General travel information
Please note: travel information is stil in preparation
The Region of Karlovy Vary lies in the westernmost part of the Czech Republic at the border with Germany. When it comes to size, it belongs among the smallest of all Czech regions, but when it comes to historical monuments, exceptional experiences and natural wealth, it ranks among the most beautiful and the most tourist attractive regions.
History
From of old, the historical development of the region has always been influenced by its position on the border of Slavic and Germanic territory, as well as by its geography and its possibilities for exploiting local raw materials and resources.
In the Middle Ages, small settlements began to appear in Krušné hory (Ore Mountains) and silver, later other ores were mined in their vicinity. At the end of the 19th century, mining operations in the surroundings of the town of Jáchymov were literally put on the map thanks to the discovery of the radioactive element of radium in the uraninite from the local mines by Marie Curie-Sklodowska. Likewise, rich deposits of kaolin triggered the foundation of prominent porcelain factories. Other premium local produce that has gained world repute includes glass made by the Moser Glassworks or the Becherovka herbal liqueur from Karlovy Vary. For more than 650 years, the region has been inherently tied to spa treatment, which utilises local natural resources, such as thermal and cold mineral springs, mud, peat, and gas.
Spa & Wellness
The renown of the Region of Karlovy Vary has always been closely bound up with balneology. Not only the best known Czech spa of Karlovy Vary is located on its territory, but also other significant spa towns, i.e. Mariánské Lázně, Františkovy Lázně, Lázně Kynžvart and Jáchymov. The spa resorts and hotels offer its guests a wide variety of wellness stays and spa programmes that are based on the tradition of exploiting natural healing resources. Their favourable effects have been verified by centuries of experience, as well as by modern scientific methods.
Historical Monuments
You may find a vast number of notable architectural sites and monuments on the territory of the Region of Karlovy Vary. The most significant include Bečov Castle and Chateau with the unique Reliquary of Saint Maurus, the spa colonnades in Karlovy Vary, Mariánské Lázně and Františkovy Lázně, Loket Castle, the Premonstratensian Monastery in Teplá, Cheb Castle – the only imperial palatine in the country, and many more.
Natural Wealth
The beautiful nature of Krušné hory (Ore Mountains) and the Slavkovský les Protected Landscape Area will treat you to an unforgettable views from the many lookout and observation towers. Dozens of nature trails will allow you to explore the plentiful nature reserves and protected landscape areas. The most popular natural points of interest undoubtedly are the Soos National Nature Reserve and the Boží Dar Peat Bogs National Nature Reserve.
Active Holiday
Numerous tourist resorts in Krušné hory (Ore Mountains) and many sports areas and complexes throughout the region allow you to spend your holiday actively in any part of the year. The most popular winter resorts are Boží Dar and nearby Klínovec as they offer a great variety of downhill courses, cross-country skiing trails and snowparks. In addition, hundreds of kilometres of tourist paths and cycle paths are available to hikers and bikers in the remaining seasons of the year. Golfers will undoubtedly enjoy 10 golf courses and several indoor golf centres. Those keen on tennis, water tourism or climbing will also have a great time. Popular adrenalin activities include paintball, rope centres, motorcycle rides etc. Manifold outdoor natural swimming areas, swimming pools and aqua parks invite you for a swim in the summer or all year round.
The Karlovy Vary International Film Festival and Other Major Events
The highlight event in the Region of Karlovy Vary is the Karlovy Vary International Film Festival, which is annually visited by thousands of film enthusiasts from all over the world. Other popular events include the Wallenstein Festival in Cheb, Jazzfest, the Folklore Festival, etc.
Source:
the-region-of-karlovy-vary
Reviews
overnachtingsplaatsen waren toppie!
★★★★☆
"
had niet verwacht dat het op alle overnachtings plaatsen zo goed zou bevallen was ok! wandelroute zelf heb er van genoten mooie natuur. als paar min puntjes staan op plaatsen de route niet duidelijk omschreven ivm de vele naamborden is opletten dus? en als je van polen plaatsje wang weer het nationaal park in loopt moet je betalen wisten we niet? hadden geen sloty meer.Was de moeite waard om er aan te beginnen grtj piet houben
"
"
We hebben een mooie vakantie gehad in Tjechie. De natuur in Tsjechie is mooi en we zijn erg tevreden met de organisatie van onze wandelreis. Fijn dat onze koffers iedere dag netjes naar het volgende hotel gebracht werden.
"
"
Heel tevreden van de reis! - Het landschap is erg mooi, uitstekende wandelpaden. Ik ben wel twee keer verloren gelopen, maar dat was niet zo erg. Accodomatie was prima in orde. Hoewel ouderwets, is het hotel in Horni Blatna me erg bevallen. Heel mooi stadje ook. Overal waren de mensen erg vriendelijk. Praktische informatie: Bozi Dar kan je vanuit Duitsland perfect bereiken als je de bus neemt tot "Oberwiesenthal - Neues Haus". Dan is het nog 400 m stappen. Ik heb jullie reisbureau intussen al aanbevolen bij mijn vrienden en familie.
"
Please submit your review
Please submit your review