Introduction
Canoeing holidays on the river Ohře, tailored for families as well as for active nature lovers
A four-to six days guided canoeing on the Ohře (Eger) river in western part of Czechia with romantic overnights in campsites along the river, all equipment provided. The river meanders through open countryside and sometimes through densely forested nature reserves. There are regular cultural and historical attractions along the route (towns, castles and palaces) to admire. The Ohre even streams through the world-famous Karlovy Vary Spa, just to name one highlight of this tour!
Detailed program: 6 days / 5 nights (shorter option 4 days / 3 nights), 85 km canoeing. We organise 4-and 6-day canoe tours on the river Ohre. Below is the day-to-day program of the 6-day tour. Participants of the 4-days trip start on day 3.
Map of tour
Tour itinerary
Day 1: Introduction and the first short stage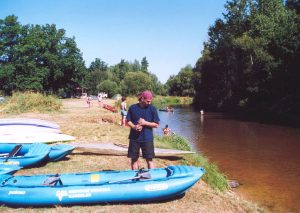 Participants meet in the morning at the campsite U Piráta in Kynšperk nad Ohří or the campsite U Mostu in Chocovice (updated information in travel documents). Introduction with the guide and the other participants. The first short stage to Šabina is an exercise technique for inexperienced paddlers, but others have to get used to the motion on the water too. In the small rapids, you learn how to control the canoe. Today you reach the campsite in Sokolov.
Distance: 16 km
Overnight stay: taboriste- (low-budget) campsite Sokolov
Day 2: challenging rapids
This day the canoeing trip goes through a deeply wooded valley. In this segment of the river you will find many challenging rapids on. You cross the city Sokolov, formerly a center of industry and mining, now a pleasant town with bright refurbished buildings. Once out of the town, the river is slower and there's time to take a break in the medieval town of Loket with it's beautiful castle.
Distance: 13 km
Overnight stay: taboriste- (low-budget) campsite near Loket
Day 3: Towards Karlovy Vary
In the morning you'll head towards Karlovy Vary, the spa town of eternal fame. But first, you'll come along a beautiful rocky area called Svatošské skály. According to a legend, the rocks are a petrified wedding party.
In the afternoon there is of course the possibility to visit the town of Karlovy Vary (Carlsbad). It is the largest Czech spa town that's been there since the Middle Ages and is not only visited by famous guests. The spa houses and hotels radiate beauty and wealth.
Distance: 14 km
Overnight stay: taboriste- (low-budget) camping in Karlovy Vary
Day 4:Karlovy Vary free day
A free day for a tour of the festival city of Karlovy Vary. You can wander around the colonnade all day, taste the springs and listen to local artists. For more sporty people, we recommend renting scooters for a trip to Loket (castle tour) and back.
Distance: 0 km
Overnight stay: taboriste- (low-budget) camping in Karlovy Vary
Day 5: Rapid Hubertus and Cliffs of fairies
Today you'll start canoeing day with much excitement on the rapid Hubertus. This acceleration can be endlessly trained and exercised.
On the next route you will find a lot of light rapids. The river gets a little pace. A nice break may be a hike to the "Cliffs of fairies" (Skály skřítků). You walk through the town Kyselka, where the most famous Mattoni Mineral water is drawn from the ground. We end in campsite Radošov.
Distance: 17 km
Overnight stay: campsite in Radošov
Day 6: Last day of paddling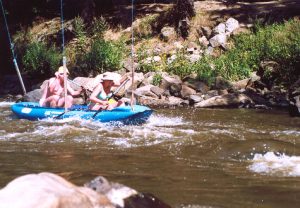 On the last day we just paddle through easy rapids to reach the end in the village Vojkovice.
Distance: 8 km
Overnight stay: none
What's included and excluded?
5 (3) nights camping on different campsites in your own tent (camp site fee and tourist tax is included)
5 (3) x breakfast (please bring your own cutlery, cup and plate)
Rental of the canoe and associated materials (paddles, waterproof tons / bag)
Children younger than 15 years old will be supplied with life vest (obligatory)
Full colour river guide with all necessary details on weirs, rapids and campsites
Info package
Transfers of the drivers or luggage at the end of every day (you will have your belongings on spot every day)
Tour guide/instructor
Other meals. During the tour there are a lot of possibilities to buy some nice dinner or to do some shopping in a local supermarket.
Car parking fee
Video
Show tour video
Accommodations
Show accommodations
General travel information
Show general travel information
travel information in preparation
Photo gallery
Reviews
Niet aan te bevelen
★☆☆☆☆
"
De camping die werd aanbevolen was ronduit smerig. De communicatie met team actief verschrikkelijk zowel thuis als zeker op plek van bestemming. En dat vervoer minder is als hier moge duidelijk zijn maar toch wel heel erg anders als verwacht. En zoals vermeld rafting het leek er niet op. Het was rustig kabbelend water. Zodat we de kano veel eerder hebben terug gebracht omdat het totaal niet leek op wat we hadden verwacht. Het spijt me erg maar team actief vakantie zou ik niet weer boeken.
"
"
Goed. alleen kajakken. Er werd niet aangeboden spullen in de grote ton op de boot van de leidinggevende te doen. We hebben in kleine ton gedaan op onze kajak maar die was lek. gevolg twee camera's en een iphne kapot.
"
"
Het was een fijne reis, we hebben er van genoten! Heel fijn dat jullie de kano en al het andere benodigde materiaal hebben geregeld. Dat was allemaal goed in orde. En wat een ideaal start -en eindpunt, zo dichtbij treinstations. Prettig dat we dit allemaal niet zelf uit hoefden te zoeken. Hoewel we voor de reis begon niet wisten of we bij het eindpunt opgehaald zouden worden of met het openbaar vervoer terug zouden gaan, maar dat werd allemaal duidelijk tijdens de reis zelf. Ook de Kanogids was zeer handig! Er stonden wel een aantal campings in die niet (meer?) bestaan, maar gelukkig waren er ruimschoots voldoende campings langs de route. Verbeterpunten: - Toen we de avond voor de boeking op het startpunt aankwamen was er niks en niemand. Gezien het campingsymbooltje in de kanogids dachten we daar te kunnen kamperen, maar er was alleen een grasveld met een niet te duiden houten hokje, waar verder ook geen informatie op stond. We hadden even het gevoel dat we misschien belazerd zouden zijn, maar omdat mensen uit de buurt kanoverhuurder wel kenden, en na een telefoontje de volgende ochtend, bleek toch alles goed geregeld te zijn. Toen we 5 dagen later overigens weer terug kwamen op het beginpunt, was er een heuse camping uit de grond 'gestampt' met WC-hokjes en eettentje. Misschien waren we net een beetje vroeg in het seizoen. - Heel handig dat kanoverhuurder Duits
"
Please submit your review
Please submit your review